Doctors: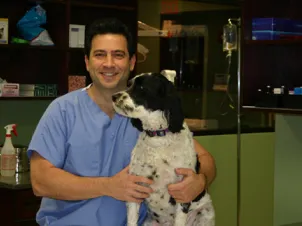 Dr. Marc Gurtman
In 1991, after a few years of uninspired practice as an attorney, Dr. Gurtman decided that he was tired of working with animals :) and pursued a career in veterinary medicine. A 1998 graduate from Cornell University's School of Veterinary Medicine, Marc has special interests in surgery and oncology.
Dr. Gurtman enjoys the challenges of difficult cases and is lucky to have friends that are specialists in various veterinary disciplines to call upon when needed.
Marc enjoys guitar, ice hockey, writing comedy and spending time with his wife Sonali and children Jason and Lauren.
---
Dr. Sonali Kothari
Dr. Kothari was born and raised in Canton, Ohio. After four wonderful years in Virginia while at the University of Richmond, Dr. Kothari decided to attend veterinary school at Ross University on the beautiful island of St. Kitts. She completed her final year of clinical studies in Louisiana at LSU and graduated Veterinary School in 2004.

Animals respond to Dr. Kothari's warm and caring demeanor. Perhaps they sense that "she's not from around here".
Driven to offer the "best" medicine, Dr. Kothari will leave no stone unturned in diagnosing challenging cases. She has a special expertise in dermatology and has helped many dogs that had been suffering a life of discomfort due to skin ailments.
Sonali enjoys taking long runs, swimming, tennis, traveling and eating! Although she loves all breeds, Dr. Kothari has a special place in her heart for the small flat-faced kind. Look for Kiwi, Ponzu, Miso, Gnocchi and Maui as evidence when you come visit our practice.
---
Dr. John Corso
A graduate of Hofstra University, Cornell University School of Veterinary Medicine (clinical training) and Ross University School of Veterinary Medicine Dr. Corso brings 15 years of surgical and internal medicine experience to our practice.
Dr. Corso strives to provide the best care and service for his patients. "Every animal I treat is comparable to caring for my own pet. Attention to detail and speaking and listening to pet owners is critical to diagnosing issues. I'm also very excited to work in a facility that has state of the art equipment, which is imperative in this industry".

Dr. Corso is a member of the Long Island Veterinary Medical Society, American Veterinary Medial Association and accredited with the United Sates Department of Agriculture/Animal and Plant Health Inspection Service, Veterinary Services, NY and the New York State Department of Agriculture and Markets Division of Animal Industry, NY.
A Smithtown native, Dr. Corso's childhood pets included dogs, cats, horses, ferrets, goats, turtles and exotic birds. His early love of animals and hands on experience in caring for his pets nurtured his passion to become a veterinarian. John still resides in Smithtown with his wife of 15 years, three sons, three dog and two cats.
---
Dr. Katherine Iovino
Dr. Katie Iovino is a native Long Islander who figured out at a young age that she wanted to be a part of a profession in which she could help those that could not speak for themselves. As a child, she was surrounded by animals of all sizes and species including fish, hermit crabs, mice, parakeets and her childhood black lab. Dr. Iovino completed her undergraduate work at Marist College in Poughkeepsie, NY and obtained her veterinary degree from the University of Pennsylvania School of Veterinary Medicine.

While Dr. Iovino loves to practice all aspects of veterinary medicine including dentistry, internal medicine, and surgery, she has a strong passion for the Human-Animal Bond and Animal Behavior. This passion was sparked after completing a training internship at the Long Island Aquarium in Riverhead. She made it a priority to study as much about this topic as possible throughout veterinary school and taught Canine Good Citizen (CGC) dog training classes, as well as dog and cat clicker training labs at her vet school. She then continued her education in Animal Behavior after graduation by completing a mentorship with a board-certified Animal Behaviorist. Dr. Iovino is an Elite Fear Free Certified® Professional which is the highest certification given to veterinarians dedicated to preventing and alleviating fear, anxiety, and stress for patients during vet visits. Dr. Iovino is a strong proponent of positive reinforcement training, an idea which she hopes to share with her clients. Her goal is to educate pet owners while making appointments as stress free as possible for her patients. She is also a professor at the Suffolk County Community College Veterinary Science Technology program, helping to train future veterinary nurses.

Dr. Iovino is a proud pet parent to her cats, Tucker and Sawyer, and her dogs, Piper and Kennedy. In her spare time, Dr. Iovino enjoys yoga, pilates, biking, and spending time with her husband, Shaun. She is also a certified yoga teacher. Dr. Iovino has an identical twin, so if you ever say "hi" to her outside of the hospital and she looks confused, don't worry- it's probably just her twin!
---
Dr. Alison Bailes